A LIST OF TOP MARKET MAKERS
Background information
We are a market maker for token projects and crypto exchanges and have been in the financial sector since 2010. We analyze financial markets extensively and in this article we provide an overview of market makers in stock exchanges. If you are interested in crypto markets, you can discover how we can conduct an effective crypto market making projects here:
What is a market maker?
Market Maker is an entity that operates on the financial market and offers constant liquidity, i.e., readiness to buy or sell a specific financial instrument at any time. The market maker is obliged to constantly quote buy and sell orders (or bid and ask quotes) for a given instrument. Thanks to this, investors can trade, even when there are no natural buyers or sellers on the market. And the lower the spread between the bid and ask quotes, the lower is the additional cost for other investors to trade. Market makers play a unique role in the exchange ecosystem. Market makers derive profits from the difference between the price, at which they buy a financial instrument and the price at which they sell it (spread).
We've analyzed the industry and created a list of the top market makers on stock exchanges in the world. Below is a brief overview of the biggest players in this field. 
Table of contents
If you are interested in crypto markets we have prepared a separate list here:
Flow Traders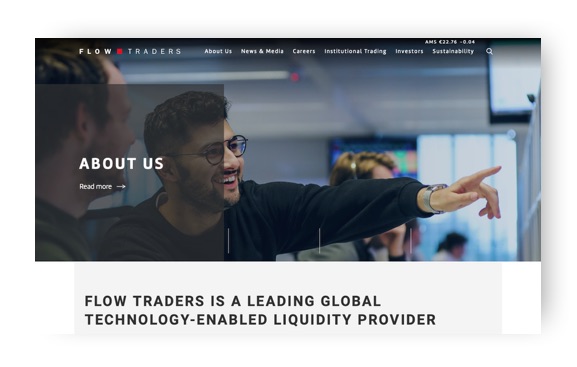 It is one of the well-known proprietary trading firms headquartered in Amsterdam, Netherlands, but it has offices in different parts of the world.
The company relies on its high-frequency and quantitative trading strategies to provide liquidity in securities markets. The company was established in 2004 and initially focused on working with ETPs (Exchange Traded Products). However, later Flow Traders expanded their business activities, and now the company also offers liquidity in fixed income, foreign exchange (FX), commodities, and digital assets.
At the moment, Flow Traders works with 2,000 institutional counterparties from different countries and continents. Among them are hedge funds, banks, pension funds, insurance companies, and others. As of 2021, the company continuously quoted nearly 8,000 ETPs worldwide.
Flow traders employs over 700 people.
Citadel Securities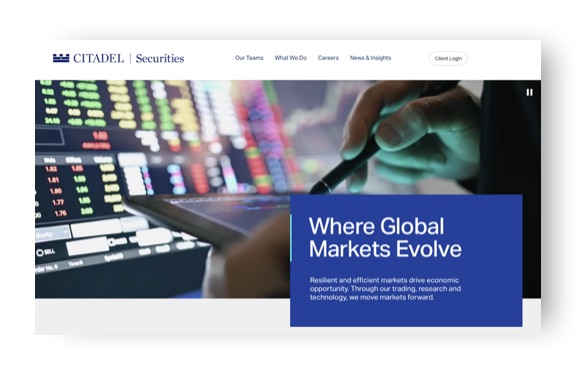 Being founded in 2002, Citadel Securities is one of the largest market-making firms in the world. Its headquarters are located in Miami, US, and it leads its activities in more than 50 countries.
It is a designated market maker on the NYSE (New York Stock Exchange) and provides principal liquidity in the stocks of a great number of companies known worldwide. The company makes markets on more than 100 trading venues and trades on the top 15 equity exchanges representing 88% of the global market cap. 
According to the company's website, 22% of the US equity market volume is executed via the Citadel Securities platform.
Citadel Securities employs over 1600 people.
DRW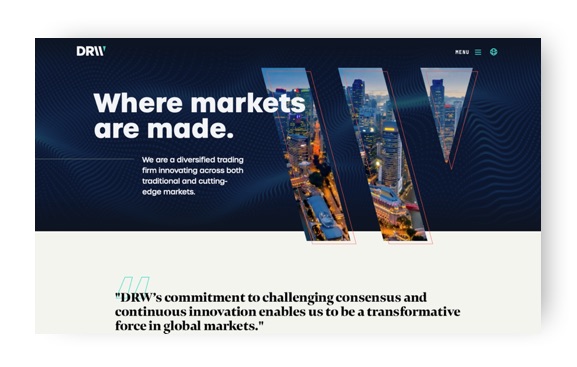 This Chicago-based firm was established in 1992 by an options trader at the Chicago Mercantile Exchange, Don Wilson.
Today the company claims its capacities allow for conducting 1,000 trades per second (which is in the standard range for algorithmic trading systems). On average, DRW executes 1 million trades per day.
After years of successful work in traditional markets, the company has expanded its activities to emerging ones like crypto assets.  Now DRW provides liquidity to ETFs, fixed income, commodities, currencies, and crypto markets.
DRW employs over 1600 people.
Jane Street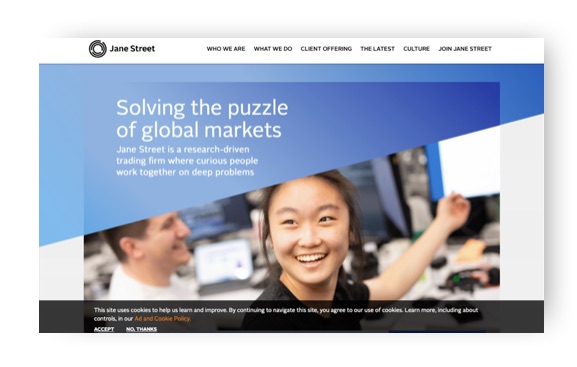 Jane Street is a global liquidity provider and trading firm with offices in New York, Hong Kong, London, Amsterdam, and Singapore.
The company started its business journey by trading American and international ETFs in 1999. Since then, it has grown significantly. At the moment, JaneStreet prices and trades 5,000+ ETFs worldwide. Moreover, it has entered bonds, options, equities, and crypto markets. 
The company continuously conducts trading on more than 200 electronic exchanges and venues worldwide. Jane Street has also launched its proprietary platforms: JCX (digital assets single dealer platform), JX, JX-EU (equity single dealer platforms), and Wholesale Market Maker (US equities wholesale market-making platform).
Jane Street employs over 1800 people.
Optiver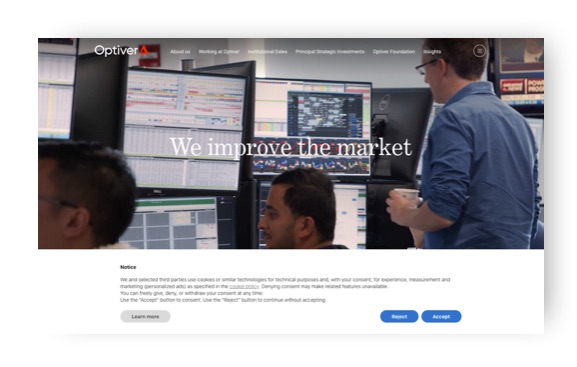 It is a market-making firm with one of the longest histories in the world. It was founded in 1986 in Amsterdam, Netherlands.
The company started its way as a market maker on the European Options Exchange which is now known as Euronext. Later, Optiver became a member of the European Principal Traders Association (FIA EPTA), FIA Japan, and FIA Principal Trading Group (PTG) in the US. In 2022, it was reported that Optiver is now also a trading member on the Viena Stock Exchange.
The company is actively expanding its activities in different regions. As of 2022, it was an official liquidity provider on more than 15 exchanges and trading platforms in the US. It is the number 1 market maker in Hong Kong Index and Single Stock Options. And it has over 6000 counterparties in the European region.
Optiver employs over 1800 people.
SIG (Susquehanna International Group)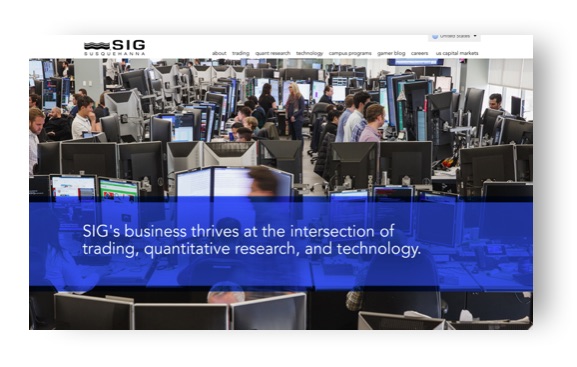 Being founded in 1987, SIG is one of the major proprietary trading firms in the world. The headquarters are located in Bala Cynwyd, Pennsylvania, US, while the total number of offices worldwide is 14 as of 2022.
The number of employees has exceeded the mark of 1,900. SIG works with all listed asset classes and financial products, including Bitcoin.
Susquehanna International Group employes over 2700 people.