Bitso listing – and why market maker is a must-have
If you are seeking to list on exchanges like Bitso, it might also be good timing to understand that you might need some help from an experienced third party. A party, that partners with trading platforms and can guide you through often an uneasy listing process. An entity, that can advise you where to list first and tailor a strategic listing plan for your token project.
Empirica offers token projects support in planning their listings. We will guide you step by step in launching your markets and making them liquid from day one.
Facts about Bitso exchange
The history of Bitso began when it was founded in 2014 and established as a centralized cryptocurrency exchange. In 2019, Bitso managed to become the first DLT licensed exchange in South America.
The exchange has a truly international team as it continuously hires specialists from all over the world. At the moment, the total number of the company's employees is around 600.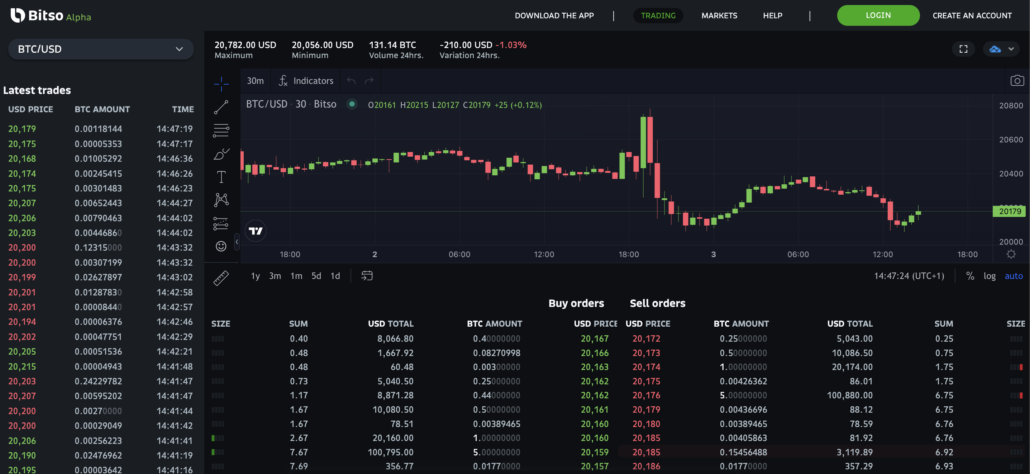 Coingecko reveals that, at the current moment, the Bitso exchange provides access to 40 coins that can be traded in 63 pairs.

Bitso lets their users receive yield if they join their Bitso+ program.

Listing on Bitso
Bitso is the largest crypto exchange in Mexico and according to the company, nearly 90% of traders are from this country. It means that listing on Bitso will open direct access to one of the most promising and quickly expanding crypto markets.
Listing on the platform is not easy, as the exchange is still catching up with the TOP 100 tokens to list. However, read further to check how we can support you on your way to getting listed at Bitso.
Bitso's score metrics
When choosing a venue for listing, it is important to check its reputation and general rank in comparison to other exchanges. A good choice is to check how CoinGecko, CoinMarketCap, and Nomics rate the exchange.
CoinGecko uses Trust Score, a rating algorithm evaluating the legitimacy of an exchange's trading volume. Trust Score is calculated on a range of metrics such as liquidity, the scale of operations, cybersecurity score, and more. Bitso's Trust Score is 8. Only 10% out of more than 500 cryptocurrency platforms have Trust Score of 8 or higher.

CoinMarketCap's Exchange Score is based on the following factors:
Web Traffic
Average Liquidity & Volume
the Confidence that the volume reported by an exchange is legitimate. Weights are assigned to the above-mentioned factors and a score from 0.0 to 10.0 is given to the Spot Exchange.
Bitso's Exchange Score is 4.7.

Nomics' metric is called Impact Score – and represents an exchange's influence on the price of cryptocurrencies it trades. The score is a combination of web traffic, volume, and other factors.
Bitso's Impact Score is 5.46.
The second Nomics metric, called Transparency Rating is A (Full Transparency). Nomics explains the purpose of these scores as rating cryptocurrency exchanges by their willingness to provide auditable history.

CryptoCompare has established the notion of Top-Tier volume whereby investors can segment the market into higher and lower-risk volumes (A is the best and E is the worst grade).

Here's the current CyptoCompare's classification of Bitso in comparison with other exchanges: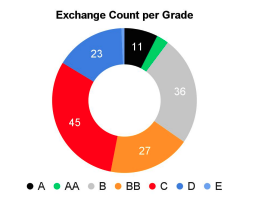 Listing on Bitso with our help
We can help you prepare for listing your token and managing liquidity on Bitso and other exchanges. The usual process looks like this:
We set up a call to understand the phase of your project. The following points will be discussed:

Are you already listed on DEXes or CEXes?
What is the tokenomy of your project?
Do you have a listing strategy for your token?

We discuss the best possible liquidity strategy for your project.
If we agree to set up a partnership, we introduce you to verified managers of one or more exchanges (listing support).
After your project gets listed on an exchange, we help you build your markets on platforms.
Why do I need a market maker?
Managing a token startup is a real challenge. As a cryptocurrency project, you need to focus on building your products and services and leave liquidity to market makers.
A market maker will help you:
deepen the liquidity on your token's books and make them more stable – which helps mitigate the price fluctuations of your coin
lower spreads between bids and asks so that the prices get fairer for investors; that reduces the cost of entering and exiting positions and encourages investors to trade your coin
In the 24/7 cryptocurrency markets, well-managed assets are supported by algorithmic market makers. They provide liquidity through their market-making services, supported by fully automated software algorithms. Empirica's liquidity products are reputable top-notch algorithmic market-making solutions.
SCHEDULE AN APPOINTMENT WITH US TO DISCUSS THE LISTINGS AND BUILDING THE LIQUIDITY OF YOUR MARKETS
WHERE IS BITSO LOCATED?
Bitso is registered in Mexico. Its headquarters are located in Mexico City, Distrito Federal.
All operations related to cryptocurrencies are being made by The Badger Technology Company Limited, a company incorporated in Gibraltar.
WHAT IS BITSO'S DAILY TRADING VOLUME?
As of September 30, 2022, the daily volume on the Bitso platform was over $32 million.
IN WHAT COUNTRIES IS BITSO AVAILABLE?
Bitso provides its services in Mexico, Colombia, Brazil, and Argentina. At the same time, its list of supported countries for international transfers includes 80 positions. On the list, we can see countries located in different regions, such as Europe, Asia, Africa, America, and Oceania.
WHAT IS A CENTRALIZED EXCHANGE (CEX)?
It is a digital asset marketplace using a similar business model to traditional asset platforms like stock exchanges.
Centralized crypto venues typically keep limit order books, which are lists of open buy and sell orders, consisting of volumes and prices. They match up buyers and sellers and announce current market prices based on the last price an asset sells for.
WHAT IS TOKEN LIQUIDITY?
This term refers to the ease with which tokens can be swapped for other cryptocurrencies (other crypto assets or government-issued fiat currencies).
WHO ARE MARKET MAKERS?
A market maker is a company or individual that regularly buys and sells financial assets at a publicly quoted price to provide liquidity to the financial or digital asset markets. Their role is to satisfy market demand. Market making is also used as a profit generation trading strategy by hedge funds.
WHAT ARE THE BEST EXCHANGES TO BE LISTED ON?
Please check our related articles on listing on bitmart, listing on kucoin, listing on gate.io, listing on bitfinex, listing on bitpanda, listing on zonda, bitkub listing and listing on btcturk.