How to plan your token listing and how can a market maker support it?
Why list your token at all?
15 March 2023
If you are a startup coin issuer, there are multiple reasons to list your token on one or more crypto exchanges:
Price-discovery – when your asset is available on a trading platform, its price is constantly adjusted to meet the current demand and supply
Trading your token on a good exchange helps improve trust and credibility among your community and investors
It is a good distribution strategy for your token to gain more investors; the better the exchange for the listing, the more new investors will be able to access and trade your token
The listing is a great marketing and PR tool – it is a new partnership for your project, thus an important announcement for your community; and a well-traded token (a liquidity provider will help here) draws more attention – so you gain even more investors
Assuring the liquidity of the token – as investors want to know how they are going to realize returns on their investments, and good liquidity lets them enter and exit their token positions easily
An opportunity to get listed on CoinMarketCap, Coingecko, or similar portals – so that the broader community can learn about your project and the token; but first, you need a token listing on a couple of platforms and assure that your token is being traded
Which crypto exchange(s) to choose?
Before DEXes arrived, projects were listing their coins on centralized exchanges only. Today many smaller projects choose to list only on DEXes. Let us see why.
Here are the pros & cons of listing your token on CEX vs DEX.
Listing on centralized platforms
As of March 2023, there are 237 centralized exchanges listed on CoinMarketCap. The TOP 5 centralized venues according to the portal are:
Every project would love to get listed on Tier 1 exchanges, like Binance, Coinbase or Kraken. However, that is extremely hard these days, especially for startup projects. In 99% of cases, your application will get rejected by the platform.
You need to define a realistic token listing strategy, starting with Tier 2/3 exchanges first (TOP 100 CoinMarketCap exchanges without the TOP 10), and then slowly adding more liquid venues to your portfolio.
Pros of a centralized platform listing:
these exchanges have a pre-existing userbase that will help your token build a community
they are usually much more user-friendly than DEXes, making access to your token easier for the community and investors
Cons:
listing on good crypto exchanges can be pricey… up to 1 mln USD for the Tier 1 exchanges
centralized exchanges are always under the radar of governments and regulatory entities, which makes it harder for some projects to pass all the formal requirements;
it takes weeks, sometimes months, to go through the process (so it is good to plan that well ahead)
Best exchanges require a certain level of maturity for the projects to get listed:
it is good to have at least an MVP of your product
the exchange might want to verify the size of your community
the better the team members, the higher the chance to get listed
a commitment/references from financial institutions, venture capital or influential individual investors will help
Listing on decentralized exchanges
DEXes are the easiest alternative to a CEX listing. As of March 2023, there are 324 decentralized exchanges listed on CoinMarketCap. The TOP 5 decentralized platforms according to the portal are: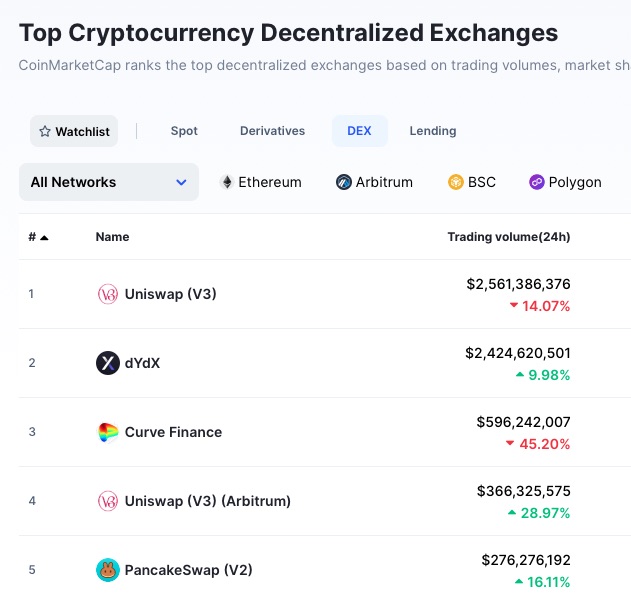 Pros of a decentralized platform listing:
listing new tokens on a decentralized exchange is usually free
there is almost no verification process for listing coins on DEXes, no KYC/AML procedures
the listing procedure for new crypto assets is very fast
Cons:
low entry barrier into a DEX results in too many tokens listed there; it is not easy to stand out from the crowd; at the time of writing the article, PancakeSwap (V2) had 3981 markets
DEXes are usually less user-friendly and harder to understand for many users
Best practices for your listing plan
How can a market making company help?
A market maker can be helpful even before you list your digital assets. Managing the liquidity of your token should be an integral part of the token strategy.
Some market makers will help you make introductions to exchanges, saving a lot of your time and making sure you speak to the right people. They can advise you on how to start, in case it is your first listing (CEX or DEX?). They will help you calculate the budget needed to manage liquidity after the listing.
All good centralized exchanges require projects to have at least 1 market maker ready from day one if they succeed in listing on their platform. Projects with very low liquidity will be delisted relatively quickly on many reputable exchanges.
It is key that projects understand the role of the market makers and have healthy expectations regarding the metrics of their markets after they get listed. Please check our market making article to read more about that.
Avoid scam-agents
There have been many cases in the past, where scammers pretended to be listing managers and charged token projects for listing on an exchange. In the era of Telegram and Discord communication, you should always verify that you speak to real exchange representatives. Some exchanges guide you on their Web pages, how you can verify the identity of the listing managers.

Ask your market maker to introduce you to platforms' representatives. They have proven networks of business developers and listing managers on various venues.
WE SUPPORT TOKEN LISTINGS ON:
Schedule an appointment with us to see
how we can help your exchange / token project
What is KYC/AML
Know Your Customer (KYC) and Anti-Money Laundering (AML) regulations exist to limit or mitigate the impact of money laundering, terrorism funding, corruption, and other forms of financial crime. Each centralized crypto exchange implements these procedures.
What is price discovery
Price discovery is the process using the economic concept of supply and demand to find a price where a buyer and a seller agree to trade.
What is centralized exchange?
Centralized exchange (CEX) is a digital asset marketplace using a similar business model to traditional asset exchanges like stock exchanges.
Centralized crypto exchanges typically keep limit order books, which are lists of open buy and sell orders, consisting of volumes and prices. They match up buyers and sellers and announce current market prices based on the last price an asset sells for.
What is decentralized exchange?
An exchange that allows for peer-to-peer transactions, which means that an intermediary is unnecessary. This type of exchange is fully autonomous and is managed by algorithms as well as smart contracts.
What is an MVP?
A minimum viable product (MVP) is a version of a product with just enough features to be usable by early customers who can then provide feedback for future product development.
What is token liquidity?
This term refers to the ease with which tokens can be swapped for other assets (other crypto assets or government-issued fiat currencies). More on token liquidity can be found here.
What are tier 1 exchanges?
In the crypto space, there is no formal classification of exchanges. Tier 1 usually refers to the most liquid platforms, usually, the first 5 to 10 ranked on portals like CoinMarketCap or Coingecko.
What are the best exchanges to be listed on?
Please check our related articles on listing on bitmart, listing on kucoin, listing on gate.io, listing on bitfinex, listing on bitpanda, listing on zonda, bitkub listing, listing on btcturk, listing on bittrex, listing on bitso, listing on kraken, listing on binance, Crypto.com listing and Coinbase listing.