Getting a job crypto, defi and web3 – a brief guide
Web3 is one of the fastest developing industries on Earth. If you check the charts, you will know it all started in 2009, when Bitcoin was created. At the time, nobody even talked about DApps, smart contracts, or DeFi. 
Then, Ethereum was created in 2013 by Vitalik Buterin, ​​Gavin Wood, Charles Hoskinson, Anthony Di Iorio, and Joseph Lubin. Ethereum provided an opportunity to build decentralized applications, and that was the moment when the crypto jobs market skyrocketed. 
At some point, young builders started creating their blockchain startups, meaning they instantly needed dev, marketing, and customer support teams. That's how a completely new sector was born – in addition to investing, you can also work on new technologies. 
In this article, we would like to show the most wanted roles in the crypto space, the types of companies you can work in, and – most importantly- the benefits of working in web3. 
(1) Is it worth working in crypto?
Some of you may wonder if it's even worth working in crypto: most companies are still startups, some still need to develop processes, and many struggles to find the product market fit. 
That's true, but that's how adopting new technology works. 
When something is new, there are a lot of ideas in the space, most will fail, and people don't know how the industry will look in 2, 5, or 10 years. 
And such things drive innovation: in web3, we can build financial tools that will soon replace what we use right now. And you can have your contribution to it. 
What about the rest benefits of working in web3? 
(1.1) Web3 is full of new connections
Web3 is full of bright minds that want to build tech innovations. If you work with such people, you will slowly become similar to them, and after ending the work in one or second startup, you will have many valuable connections. 
(1.2) There are new opportunities in web3
As time flows, crypto startups open the doors of multiple opportunities. And it's not only about the job opportunities. Crypto is so airtight that you can be easily recommended to company B if company A likes your work. It's about some investment opportunities (in the form of seed & private investments, inaccessible to ordinary people), and even business opportunities. 
Maybe in one of the startups, you will meet the future co-founder. 
(1.3) Prominent perspectives for the web3 future: )
We are still at the stage where the regulations are around the corner. The regulators are still processing a comprehensive "due diligence" on crypto. Why is that? Because blockchain tech is beneficial, but without the proper regulations, it might turn out that the companies unfamiliar with web3 won't implement the new-tech solutions. They can fear a grey area, a low level of due diligence, and even being scammed (potentially). 
However, the regulators are pushing the new rules so the primary users or the companies can be 100% sure that what they use is safe & secure. After that, the blockchain space may skyrocket. If it becomes safe, many companies around the world will start using it. After all, it's about improving current finance, data storage, or customer engagement methods. 
(1.4) Building from scratch
Now, something for tech geeks. If you have worked in worldwide IT companies, you probably know the tasks there are primarily about correcting what has been done so far. As a dev, you only have a little power. You need to follow the vision of the people who built the product. 
Web3 changes that. Here, most companies are startups. Some of them are trying to find the product market fit. And they need to build the innovations from scratch. As a tech person, you will have much more power. You can launch the product from scratch according to your vision and idea. 
Plus, you can broaden your skill set by learning other programming languages (i.e. Rust or Solidity) and how different blockchain networks work. As blockchain tech is growing in popularity, such experience can be useful!
(1.5) TL; DR 
Web3 space incubates the newest tech innovations. So if you like working on new things that will be big one day, and this vision drives you, web3 is for you—not to mention additional benefits like investment deals or new connections. 
Web3 is just a completely new sector that you can specialize in. And if you know how to build the tools that are the future of finance, you can contribute to the development of the internet society.
Want to know more about what it takes to pursue a career in crypto trading? See our brief guide on taking a market making job.
(2) What are the most wanted jobs in web3? (TOP 6 positions)
(2.0) Introduction
In web3, you can be whoever you want. It's similar to the 'traditional' job market. The roles are mainly the same, but employees focus on the cryptocurrency world. Below we put five examples of the best-paying & desired jobs in the web3 space. Here's how you can develop your career: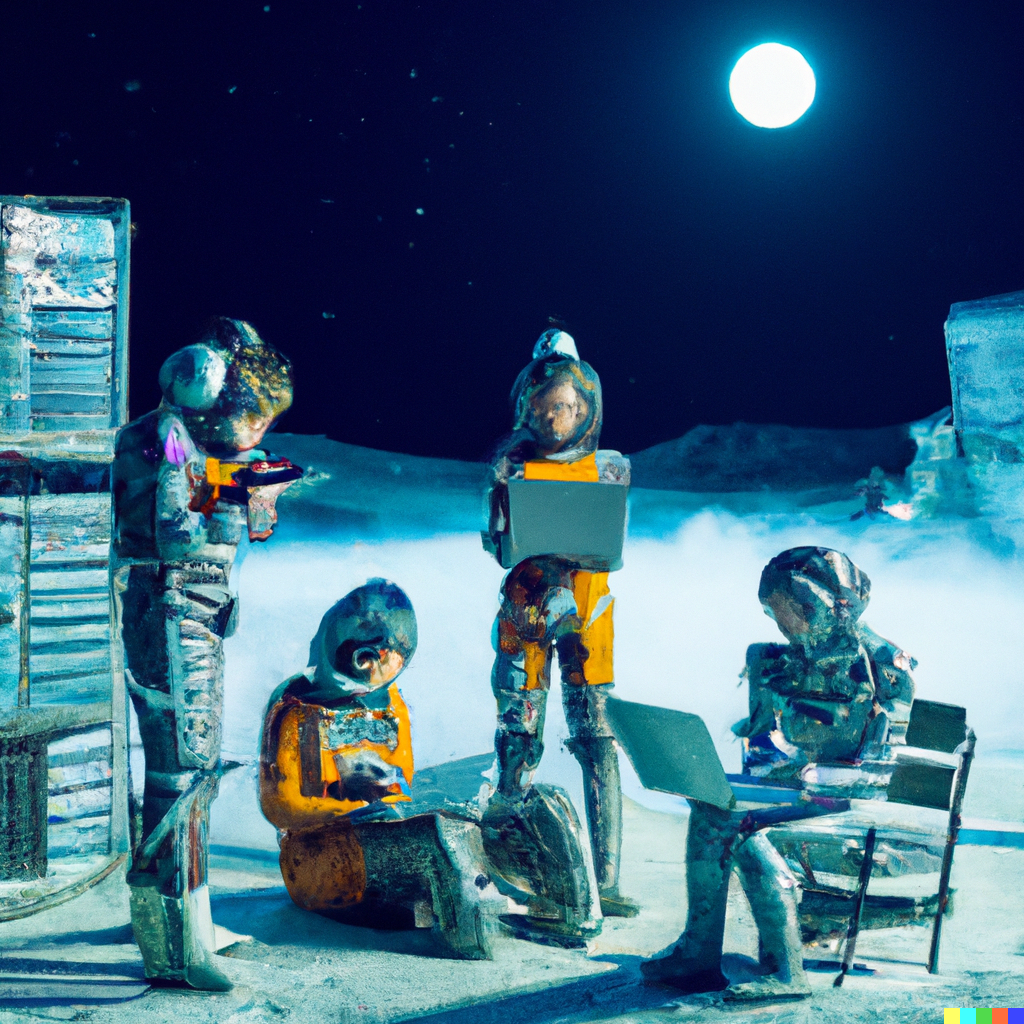 (2.1) DeFi Researcher
It's someone who brings the understanding of the most effective innovations from decentralized finance to the company. It must be the person that loves DeFi, crypto markets, and financial mechanism design. Most often, the role of DeFi Researchers is leading the product team and keeping an eye on implementing new mechanisms into the protocol. 
What is the know-how required for that role? 
Most important: a deep understanding of DeFi and crypto-community functioning. Then, the proactive approach: most innovations are hidden in the whitepapers or on Linkedin, Twitter, or Discord chats. You need that curiosity to dig deeper and find the newest solutions. And finally, you need well-developed communication skills to discuss implementing DeFi mechanisms with the team. 
(2.3) Blockchain Developer 
Blockchain devs are one of the most needed people in the web3 startup. As crypto is mainly about tech & financial products, the guy writing code on the back end is an inherent part of the web3 organization.
The role of blockchain dev is different in every company:
Some need smart contracts in Solidity.

Some need to develop an SDK.

Some want the code security review.
It all depends on the field the company operates.
Speaking of operations: blockchain dev is the most profitable web3 niche you can operate in.
If you have a valuable skill set and experience in many projects, your salary will be well above the average compared to traditional sectors. 
(2.4) Community Manager 
The Community Manager is the person you often text with on the community groups of web3 startups. As most web3 companies issue their tokens, there are multiple questions about buying them, staking, tokenomics, future plans, product development, and other things. You can't cover all the replies in FAQ, and that's the role of the community manager: help community members to find answers to their questions. 
This job is also about perfectly managing Telegram, Discord, or Twitter communication channels and constant monitoring if somebody needs help while using the DApp, buying tokens, or participating in the contest.
The role of the community manager is also inventing how to engage the community. Because one thing is attracting people, but the second is maintaining their activity and keeping them around.
To be a community manager, you need a fast internet connection and the will to help others. 
It's the non-tech job position that every blockchain project requires. 
(2.5) Marketing Specialist 
Now, the person responsible for product promotion and broadening the company's reach.
There are multiple marketing roles in crypto companies, depending on the needs.
The function of such a person is to help attract the community, reach more users (i.e. protocol users or network users), and manage brand communication by sharing interesting insights, showing customer journeys, launching campaigns, or publishing product updates.
It's also about PR, growth hacking, and being open-minded to new marketing forms. 
From our experience, most hires for marketing roles are done on Linkedin. 
It's worth considering building a profile there. 
(2.6) Crypto Trader
A trader is a person that uses the company's financial resources to multiply them on financial markets. It's quite a unique role because it cannot be found in all kinds of web3 startups: as every blockchain company needs marketing specialists, product teams, or community managers, only a few types of organizations need traders. 
"But what traders do?" 
They speculate on the price movements and trade with leverage to reach a profit.
"Who can join? "
If you have proven effects on financial markets, you can find a new job in hedge funds (like BlackRock) or market-making entities (like Empirica). 
You get the capital, access to other experienced traders, and trading tools from the company. Your role is to generate profit.
Keep in mind this job is only for people with strong minds! 
(2.7) Data Scientist
And last but not least: Data Scientist – is a person with access to data & statistics. His (or her) role is to manage the unstructured information to reach the structured outcome that will help to find the place for improvement.
Data scientists also localize the space to implement automatization or AI / ML (machine learning) algorithms to improve the whole team's work. 
As we are moving more and more into the internet world, the data scientist is the job of the future: with the technology development, we will need people that will read and understand the data. 
Because only with information (and a proper understanding of it), organizations can grow and reach world-class levels. 
(2.8) Off-topic: Empirica is Hiring! 
If you want to start (or continue) your crypto journey and look for a company that will up your know-how, you are in the right place. 
Currently, we are looking for Data Scientist, Crypto Trader, Java Developer, and DevOps. 
Fully remote. Awesome team. Awesome partners. And we pay fair.
Do you have any of those qualifications and want to try your luck? 
Email us at piotr.stawinski@empirica.io (Telegram: @piotrstawinski). 
We value unique skills! 
(3) In what companies can you work in web3? 
Ultimately, it's worth showing different places where the people in web3 can work. For example, you can work with blockchain projects, token projects, protocols, DAOs, hedge funds, VCs, or software companies that are implementing blockchain solutions for their clients. 
(3.1) Blockchain projects
"Blockchain project" is an umbrella phrase under which you can have protocols, tokens/coins (even those meme ones), protocols (like DApps, financial systems, or financial products).
These companies often need developers (front-end/back-end / smart contract), marketing & social media specialists, researchers (a non-tech job!), and designers/graphics. 
(3.2) DAOs
DAO is a decentralized autonomous organization, decentralizing the group's decision-making process. There are different types of DAOs:
Service DAOs

(i.e. law DAOs – connecting legal firms or solo specialists with the clients)

Social DAOs

(focusing on social capital), 

Collector DAOs

(gathering the community of collectors) 

Grant DAOs

(like the one launched recently by MetaMask so they can incubate emerging blockchain projects)

Media DAOs

(focused on content consumers and content creation)

Investment DAOs

(where multiple community members combine their assets, and together they invest. Example: each DAO member puts in $2k. There are 500 community members. The startup gets $1M in equity funding, and each investor has its share in the pool. 
(3.3) Hedge Funds / VCs
Hedge Funds & VCs in web3 are entities with more capital than time, focused on allocating financial resources to emerging startups. You can join the VC as a single employee (and, for example, listen to the companies' pitches) or even launch your own VC fund (and gather money for it). 
(3.4) Software companies
Software companies are not typically blockchain companies, BUT they implement blockchain tech for their clients. That said, they need some blockchain specialists to do the projects for web3 clients. So you can seek these types of companies if you are a tech person. 
Hint: most often, the blockchain field is not covered 100% because web3 is still very new, and only a few people have the proper know-how to deliver web3 integration.
Explore, focus, and try new opportunities! 
There are many reasons you could want to work for a market-making and high-frequency trading firm. A few of them are:
You will work for a firm that is on the cutting edge of technology. These firms often use the latest and greatest in trading technology (very often built in-house), which can be very exciting for those who are interested in that sort of thing.

You will work for a firm that is highly profitable. These firms often make a lot of money, which can be very rewarding for those who are looking to make a lot of money.

You will be a part of a team that is highly successful. These firms often have a very high success rate, which can be very motivating for those who are looking to be a part of a winning team.

You will work for a firm that is highly respected. These firms often have a very good reputation due to their highest standards of operations, mature processes, and scale.

You will work for a firm that offers a lot of opportunities for growth. These firms often offer a lot of opportunities for advancement, which can be very appealing for those who are looking to move up in their career
If you are interested in the topic of liquidity provision, you should see our list of books on market making and related topics.