We are a market maker operating on the Binance exchange
We help token projects get listed there
Is it worth listing on Binance from the project's point of view?
It's a popular exchange. There are a lot of retail investors and a lot of volumes. Listing there is also a good marketing signal because this exchange is transparent, stable, and has an excellent reputation. In our opinion, listing there should be the goal of every project. However, it is not always a straightforward process.
Who are Binance market makers?
Market makers on Binance are independent companies, like ours, that provide liquidity for projects on their own accounts. We help projects build healthy organic liquidity. In such a market as Binance, it is worth providing investors with sufficient liquidity to take advantage of the fact that many retail and institutional investors are there. A healthy order book builds investor confidence.
Is Binance a maker market?
Binance is probably not engaged directly in market making activities, and we are not aware of any market makers associated with this exchange. However as the company structure is unclear and complicated, we would not stake much ETH on this statement. Trading conditions are very demanding, especially on popular pairs, indicating that many sharks swim in this pool already.
Listing on Binance with our help
We can help you prepare for listing your token and managing liquidity on Binance and other exchanges. The usual process looks like this:
We set up a call to understand the phase of your project. The following points will be discussed:

Are you already listed on DEXes or CEXes?
What is the tokenomy of your project?
Do you have a listing strategy for your token?

We discuss the best possible liquidity strategy for your project.
If we agree to set up a partnership, we introduce you to verified managers of one or more exchanges (listing support).
After your project gets listed on an exchange, we help you build your markets on platforms.
Learn more about listing your project on different exchanges
Binance Launchpad
For token projects searching for a new coin listing on the platform, Binance has several options. You can apply for a direct listing on the Binance exchange for listing on Launchpad or Launchpool. Launchpad is intended only for new projects that haven't issued their tokens. As for Launchpool and direct Binance listing, these options are available to both young projects and those that already have their coins in circulation.
Though there are no precise requirements for tokens that will be approved for listing, Binance analyzes each project to decide which tokens will be presented on the exchange and its apps.
By the time of writing this article, these platforms have already onboarded over 60 tokens.
At the moment, Binance offers 357 coins and 1471 pairs for trading.
Is Binance safe?
Binance's score metrics
When choosing a venue for listing, it is essential to check its reputation and general rank compared to other exchanges. A good choice is to check how CoinGecko, CoinMarketCap, and Nomics rate the exchange. Although in the case of Binance, we should exclude CoinMarketCap, as these two companies are related.
CoinGecko uses Trust Score, a rating algorithm evaluating the legitimacy of an exchange's trading volume. Trust Score is calculated on a range of metrics such as liquidity, the scale of operations, cybersecurity score, and more. Binance's Trust Score is 10. Only 10 out of more than 500 cryptocurrency platforms have a Trust Score of 10.

Nomics' metric is called Impact Score – and represents an exchange's influence on the price of cryptocurrencies it trades. The score combines web traffic, volume, and other factors.
Binance's Impact Score is a max. 10.

CryptoCompare has established the notion of Top-Tier volume whereby investors can segment the market into higher and lower-risk volumes (A is the best and E is the worst grade).

Here's the current CyptoCompare's classification of Bittrex in comparison with other exchanges: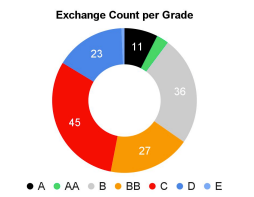 About Binance
As of September 2022, Binance is the largest crypto exchange in the world. With a daily trading volume of over $19 billion, it is the number one digital asset trading platform, according to Coingecko. It was founded in 2017.
Binance has managed to establish a vast international community. Today the exchange has 40 multilingual Telegram groups aimed at providing users from different regions with the most recent updates.
The Binance team includes over 2000 employees in more than 20 locations worldwide.
Let's discuss the listings and the liquidity of your project.